The Institute for the Future of Business is ready to transform business education, research and industry engagement after the appointment of its first Executive Director, Professor Phillip Dolan.
Professor Dolan comes to the University of Melbourne with over thirty years' experience in academia and industry.
Leadership positions he has held at Australian universities include Director of the Applied Finance Centre at Macquarie University, Dean of the University of Western Australia's Business School, and Pro Vice-Chancellor at La Trobe.
In the corporate sector he worked in a range of investment-related roles at Macquarie Bank over 13 years, has managed his own investment company, and is now a keen investor in a range of Australian start-ups.
He completed a Bachelor of Arts at Macquarie University, an MBA at University of New South Wales, and a PhD at Stanford University.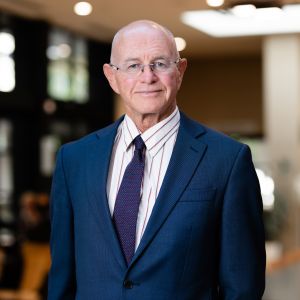 Professor Dolan said it is a pleasure to join the University of Melbourne and a community of business-minded scholars at the Faculty of Business and Economics and Melbourne Business School.
"This role will be exciting and challenging, but with the support and knowledge at the University, I am certain we can achieve our ambitious goals of transforming business education and improving career pathways," said Professor Dolan.
"I was drawn to this role by the Institute's aim of bridging the gap between academia and industry, and creating a collaborative environment where students, educators, and business professionals can address today's challenges while preparing for the future of work," he said.
He said he looks forward to taking part in a panel discussion at the Institute's launch event on Tuesday 16 May.
Professor Paul Kofman, Dean of the Faculty of Business and Economics, said Professor Dolan brings valuable knowledge and expertise to the Institute.
"We were pleased Phillip put his hand up to lead this new Institute through its establishment phase and beyond. With extensive leadership experience in the tertiary sector and knowledge of business and investments, he is the right person to shepherd and nurture existing and prospective partnerships as they unfold between academia and industry," said Professor Kofman.
The Institute for the Future of Business will focus on understanding corporate needs, matching them with suitable academic resources, and co-designing curriculum with industry input to transform graduate business education.
It will facilitate applied research projects with real-world impact and provide access to student talent for internships, mentorships, and employment opportunities.
Professor Ian Harper, Dean of Melbourne Business School, said, "The new Institute for the Future of Business is a novel initiative designed to bring business and academe together to co-design and co-deliver applied research and professional education. Phillip Dolan brings just the right blend of business and academic experience to get our Institute off to a flying start."
The Institute will hold a launch event at Melbourne Connect on Tuesday 16 May.