Mavis Robertson was a pioneer for the role of women in the superannuation sector. As one of the founders of Cbus, she stood at the forefront of the industry. Now, her name has been lent to a scholarship that offers students the chance to follow in her footsteps. To find out more, we spoke with the scholarship's inaugural winner, Joanna John.
Joanna John is in the third year of her Bachelor of Commerce, majoring in Actuarial Studies. It's a course of study that began with a high school talent for maths, (that eventually relocated her from Queensland to study at the University of Melbourne) but for Joanna, it's much, much more.
"It's about analysing risk through numbers, but then being able to make judgements and predictions about the future," she says. "Superannuation is a really big field for actuaries; it's definitely one I would like to go into, so this internship has given me really good foresight into that. In university we do a lot of theoretical study, so this gave me an opportunity to apply my knowledge in the real, working world."

However, it wasn't just the industry experience that drew Joanna to Cbus, and the Mavis Robertson Scholarship.
"I applied for the scholarship because I really liked what it stood for. Mavis Robertson was this incredible campaigner. She was at the forefront of the superannuation movement in the 1980s, and I know that everyone at Cbus really appreciates the work she did. People would ask me how I came to be at Cbus, and I would tell them 'I'm a Mavis Roberston Scholarship Holder', and they always knew immediately what I meant. They have a really rich culture, and they really value her.'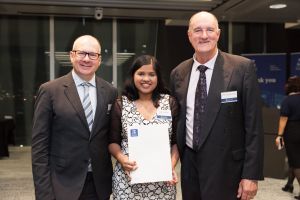 For Cbus themselves, the scholarship offers an opportunity to celebrate the legacy of Mavis Robertson, and to encourage students like Joanna enter the field.
"Cbus, the $43 billion industry fund for the building, construction and allied industry, is proud to partner with the University of Melbourne to provide the Cbus Super Mavis Robertson Scholarship. Mavis Robertson AM made an enormous contribution to the establishment and growth of industry superannuation. Beyond her work directly for Cbus, Mavis was central in establishing the Australian Institute of Superannuation Trustees (AIST), the Australian Council of Superannuation Investors (ACSI) and Women in Super. The scholarship seeks to heighten awareness amongst students of the burgeoning career opportunities in superannuation, particularly in the investments area. In respect for Mavis's commitment to mentoring women in the superannuation industry, the scholarship is also targeted at promoting greater interest in superannuation careers among female graduates. We congratulate Joanna John as the inaugural winner of the scholarship and wish her well in her studies."