For the last 28 years L'Oréal Brandstorm has brought students from across the globe together in an innovation competition where they tackle real-world business problems
The L'Oréal Brandstorm competition brings University students from 60 countries together to develop creative solutions, for some of L'Oréal's 36 international Brands. We spoke with L'Oréal's Lilian Tran to find out more.
'At L'Oréal, we believe that there is no single and unique model of beauty, but an infinite diversity of forms of beauty, linked to cultures, history and personalities. Since the company's creation, the group has been pushing the frontiers of knowledge as its unique research arm enables the company to continually explore new territories and invent the products of the future and lead the beauty tech evolution. By involving graduates through Brandstorm who are able to push those boundaries further, we can potentially come up with more innovative and fresh ideas to a business problem we are currently facing,' says Lilian. 'It also allows students to see what it's like inside L'Oréal, and gain exposure that may set them up for a future career. They gain access to mentorship opportunities and e-learning modules, network with our Brandstorm alumni, and in some cases, have the chance to travel to Paris to participate in the international final. We also use Brandstorm as a talent acquisition tool, to find individuals with the kind of entrepreneurial spirit we want to foster at L'Oréal.'
The Bachelor of Commerce (BCom) equips students with the skills and knowledge to understand and solve key business challenges. Make a difference to society, policy, and organisations while forging a pathway to a global career. Choose from majors including Accounting, Actuarial Studies, Economics, Finance, Management and Marketing.

Bachelor of Commerce student Samantha Cameron was one of Brandstorm's participants this year.
'This year's prompt was to 'Build a plastic-less future for the Beauty Industry'. This meant considering both product and packaging and creating a totally plastic-less solution. My team developed the idea of 'Purity Pods' which are poppable, biodegradable, single-use seaweed capsules that are a sustainable product delivery method for the Beauty Industry. Part of the brief involved choosing a line in the Consumer Products Division (CPD) and adapting your idea to it. We chose Garnier as we felt like our Pods would be the most easily adaptable and feasible in this line. As a result, we named our team 'Garnier Purity Pods'.'
It was a project that Samantha and her team were able to take through the entirety of the competition.
'We started off creating visuals and logos for our idea and then we began the research. The research was so vast because we had to think about so many different areas of the Seaweed Pods, the benefits, science of them, feasibility, scalability, environmental impact, social impact, economic impact, maintaining L'Oréal messaging and branding etc.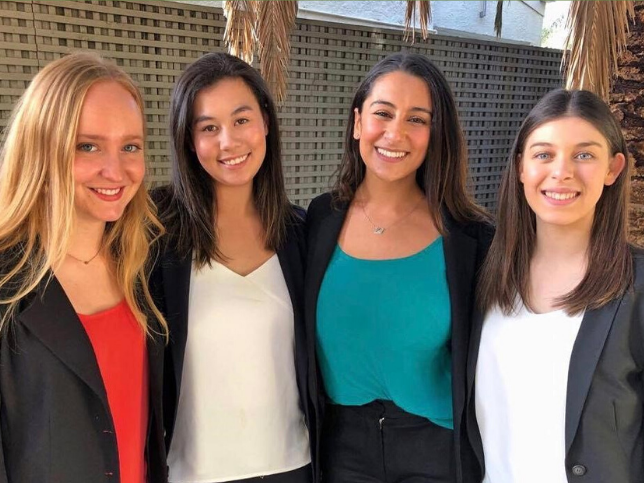 We were lucky enough to be selected for the semi-final, and then the Australian National Final. In the lead up to the Grand Final, we received mentoring from some L'Oréal reps who gave us more insight into L'Oréal and gave us some really helpful tips going into the final. In the Grand Final, we had to do a five-minute pitch with ten minutes of Q&A. We were asked some pretty tough questions and we were so impressed by all of the other teams. We were then announced the Australian champions and also received the People's Choice Award! We then proceeded to the International Brandstorm Finals where we competed against 65+ countries and regions. Again, everything was online and we had to stay up very late to present because it was at local Paris time! We ended up placing 14th in the world. Amazingly, a total of 47,800 students from all around the world participated in the Brandstorm competition this year and it was the highest ever participation rate.'
Now, Samantha has joined L'Oréal in a highly sought-after internship that's giving her the chance to take her passion into the workforce and get some real-world experience.
'That kind of experience is something that you can't experience anywhere else. University gives you the fundamental knowledge to enter into the workplace but you don't get to experience the culture itself, communication, conflict, methods, etc. I want to get more of an insight into the professional world and the way it operates. Going into the internship I believed my career roadmap was heading in more of a Management direction, however since starting this Marketing internship I'm slowly leaning towards this more digital, creative side of Commerce. I think this internship will be pivotal in helping me decide which path I want to take. I've already learnt such a variety of skills and now have a more well-rounded knowledge of not just L'Oréal but the business world itself, so coming out with all these skills and knowledge is super valuable.'
The next round of Brandstorm is launching in November 2020. For those interested in participating, find out more here.