Business and Economics Board
The Business and Economics Board is an industry board providing curriculum guidance, expanding relationships with business, government, industry and the not-for-profit sectors, and actively fund raising.
Role of the Board
The Business and Economics Board meet four times a year with the Faculty and its role is to:
Provide advice and support the development of world-class programs in both the undergraduate program and the graduate school
Assist in the development of links between the Faculty and the wider business, government and community sectors for students, research and other purposes and facilitate advocacy on behalf of the Faculty
Assist in the positioning of the Faculty within the University
Provide stewardship of The Melbourne Foundation for Business and Economics
Dr Peter Yates AM
Chairman, Business and Economics Board
Peter Yates AM FTSE FAICD BCom (Melb), Master of Science (MGT) (Stanford), Doctorate of the University (Murdoch) is Chairman of AIA Australia Limited, a Director of Linfox Australia Pty Ltd and Mutual Trust Pty Ltd. He is Chairman of the Royal Institution of Australia, the Australian Science Media Centre, the Faculty of Business and Economics at Melbourne University, the Royal Children's Hospital Foundation, the Shared Value Project and the NHMRC Centre for Personalised Immunology at ANU and the Australian Research Council Centre of Excellence for Quantum Computation and Communication Technology at UNSW.
From 2004-2007 Peter was Managing Director of Oceania Capital Partners and held the position of Chief Executive Officer of Publishing and Broadcasting Limited from 2001-2004. Until 2001, he worked in the Investment Banking industry including 15 years with Macquarie Bank. He holds a Doctorate of the University from Murdoch University, a Masters degree from Stanford University Graduate School of Business and a Commerce degree from University of Melbourne. He speaks Japanese, having studied at Keio University in Tokyo.
Until May 2021, Peter was Chairman of Colonial Mutual Life Assurance Society Limited. He has been Deputy Chairman of The Myer Family Investments Ltd, a Director of the Royal Children's Hospital and the Australian Chamber Orchestra, Asialink, Publishing and Broadcasting, Crown Ltd, Foxtel Ltd, The Nine Network, Ninemsn, Ticketek, Veda Ltd, Oceania Capital Partners Ltd, the National Portrait Gallery, The Melbourne International Arts Festival, Centre for Independent Studies and the Australia-Japan Foundation.
In the June 2011 Queen's Birthday Honours, Peter was awarded a Member of the Order of Australia for service to education, to the financial services industry and to a range of arts, science and charitable organisations and in 2017 was made a Fellow of the Australian Academy of Technology and Engineering (ATSE). He has also recently been awarded the Australian Academy of Science Medal for 2019.
Tony Burgess
Chairman, The Melbourne Foundation for Business and Economics
Chairman of Flagstaff Partners Pty Ltd, an independent corporate finance advisory firm, Mr Burgess has over 40 years of experience in corporate finance in Melbourne, London and New York and was previously Global Co‐Head of Mergers and Acquisitions for Deutsche Bank AG, based in London.
Mr Burgess holds an MBA (with Distinction) from Harvard Business School (1985) and a Bachelor of Commerce (with First Class Honours) from the University of Melbourne (1981). He is a member of CPA Australia and a Fellow of the Financial Services Institute of Australasia. He is a director of the listed investment company, Diversified United Investment Limited, director of the Melbourne Business School Limited, a governor of the Ian Potter Foundation, and a member of the Board of Management of the Melbourne Theatre Company.
Professor Paul Kofman
Paul Kofman (PhD Erasmus University Rotterdam) was appointed Professor of Finance at The University of Melbourne in 2001. In 2012, Professor Kofman became the Dean of the Faculty of Business and Economics.
Paul's research interests and publications are in the ethics of finance, quantitative and behavioral finance and the regulation of financial markets. He has received numerous competitive research grants and was one of the founding directors of the ARC-funded Financial Integrity Research Network.
With his colleague Clare Payne, Paul introduced one of the first online ethics in finance subjects, and their text book "A Matter of Trust – the practice of ethics in finance" was published by Melbourne University Press in 2018. With his colleague Sean Pinder, Paul also designed and developed the first Coursera MOOC specialization, Essentials of Corporate Financial Analysis and Decision Making, in partnership with BNY Mellon.
Paul has undertaken consultancy work for the European Options Exchange, the New York Board of Trade, the Central European University, a number of Dutch investment banks, the Dutch Centre for Actuarial Statistics, the Australian Office of Financial Markets, and the RACV.
Professor Ian Harper AO
B.Econ. (Hons) (Qld) M.Ec. Ph.D. (ANU) FASSA FAICD
Ian Harper is Dean and Director of the Melbourne Business School and Co-Dean of the Faculty of Business and Economics at the University of Melbourne. He is also a member of the Reserve Bank of Australia Board and Chair of the Australian Statistics Advisory Council.
Ian is a professional economist best known for his work in public policy. During his 40-year career, he has worked with governments, banks, corporates and leading professional services firms at the highest level.
From March 2011 to March 2018 Ian was a partner at Deloitte Touche Tohmatsu and then a Senior Advisor to Deloitte Access Economics. He chaired the Australian Government's Competition Policy Review, a "root and branch" review of Australia's competition policy, laws and regulators, from March 2014 to March 2015.
From December 2005 to July 2009, Ian served as inaugural Chairman of the Australian Fair Pay Commission, and from January 2011 to February 2012, he was one of three panellists chosen to review Victoria's state finances.
Ian was elected a Fellow of the Academy of Social Sciences in Australia in 2000 and a Fellow of the Australian Institute of Company Directors in 2009. In 2016 he was elected a Distinguished Public Policy Fellow of the Economic Society of Australia and received a Vice-Chancellor's Alumni Excellence Award from the University of Queensland.
Ian was appointed an Officer in the Order of Australia in the 2020 Queen's Birthday Honours List with the citation "For distinguished service to education in the field of economics, and to public and monetary policy development and reform".
Ross E Barker
BSc (Hons), MBA (Melb), F Fin.
Mr Barker is a Non-Executive Director of Australian Foundation Investment Company Limited, AMCIL Limited and Mirrabooka Investments Limited. He was the Managing Director of these companies and Djerriwarrh Investments Limited from February 2001 to December 2017. Prior to this he was a Partner and Managing Director of J B Were & Son.(1996 - 2001). He is also Chairman of Melbourne Business School Ltd and a member of the William Buckland Foundation Board.
Caron Beaton-Wells
Caron Beaton-Wells is Dean, Internal at the Melbourne Business School and a Professorial Fellow at the Melbourne Law School.
Caron Beaton-Wells is an internationally distinguished academic leader, committed to the role of education and research in a changing world and for a sustainable future. Hallmarks of her leadership are clarity of vision, shared purpose and values, the pursuit of excellence and the empowerment of people. She has a track record in instigating and executing on major change initiatives for organisational growth and impact, with a particular focus on digital transformation.
In her role as MBS Dean, Internal she leads the School across the functions of teaching and learning in all award and executive education programs, research, operations, marketing, external relations, people and culture and corporate services.
Caron is also an Honorary Professorial Fellow of the Melbourne Law School and a lay member of the Australian Competition Tribunal. She was formerly a member of the executive leadership team, holding successive Associate Deanships, at Melbourne Law School (ranked no. 1 in Australia and no. 5 in the world).
Her research and teaching have lain at the intersection of law, economics and business disciplines as they relate to competition in markets and the digital economy. She has been awarded substantial research funding and published extensively, contributing to the intellectual and public discourse around the world.
She has been a member of national and international editorial and advisory boards, consulted to the OECD, ASEAN, and the New Zealand Government, and been a non-governmental advisor to the International Competition Network, a member of UNCTAD's Research Partnership Platform, and a member of the Law Council of Australia's competition and consumer and small business committees.
Formerly a solicitor at (now) King & Wood Mallesons and a member of the Victorian Bar, practising in commercial and government law, Caron was the 2019 recipient of the Academic of the Year (Women in Law) Award.
She is a member of Chief Executive Women, Australia's peak organisation for influencing and engaging all levels of business and government to achieve gender balance and equity.
Christian Bennett
Christian has 30 years experience in senior roles across both the private sector and in diplomacy, with a particular focus on reputation management and advocacy.
In November 2022 Christian was appointed Chief Corporate Affairs & Sustainability Officer at Virgin Australia. Prior to Virgin, Christian spent five years with the Woolworths Group, including as its Chief Reputation Officer, and was a member of its Group Executive Committee. In prior private sector roles he led government relations for General Electric across South East Asia, Australia, PNG and New Zealand, was head of government relations across Australia and the EU for BHP Billiton and was Group Executive of Public Affairs at Santos.
In government, Christian spent 14 years in Australia's diplomatic service, including postings in southern Africa, Asia and the United States. He also undertook secondments into the Office of the Foreign Minister (North Asia and Economics Adviser) and the Department of Prime Minister & Cabinet. Having joined DFAT as a Graduate in 1992, he was promoted into DFAT's Senior Executive in 2003. In 2004 he was appointed Australia's High Commissioner to Brunei.
Christian sits on the Boards of the Australian American Fulbright Foundation and the Royal Institution of Australia. He is a former Board member of the Federal Government's Australia Malaysia Council and the Council on Australia Latin American Relations.
Christian holds B.LLB (Hons), B.Comm and MBA degrees from the University of Melbourne.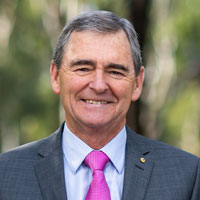 The Hon John Brumby AO
John Brumby has deep and varied experience at the most senior levels in Government, business and the not for profit sectors.
In Government, John was Treasurer of Victoria for seven years and then Premier from 2007 to 2010. He also served as a backbencher in the Federal Parliament from 1983-90, as the Federal Member for Bendigo in the Hawke Government.
He is the Chair of Citywide Service Solutions, BioCurate and Breakthrough Victoria and in March 2019 was appointed Chancellor of La Trobe University.
Mr Brumby was National President of the Australia China Business Council from 2014-19 and prior to that Chair of the COAG Reform Council from 2012-14. He has conducted numerous high level policy reviews for Government at both State and Federal level, including the 2013 GST Review.
In 2014 Mr Brumby released his book titled "The Long Haul, Lessons from Public Life" and in 2018 he was made an Officer in the Order of Australia for his leadership in medical biotechnology and regional development.
He is a graduate from Melbourne University (B Com) and a Fellow of the Australian Institute of Company Directors.
The Rt Hon Lord Mayor of Melbourne Sally Capp AO
Sally Capp was elected Lord Mayor of Melbourne in May 2018 and was the first woman to be directly elected as Lord Mayor.
Sally was also the first woman to hold the post of Agent-General for Victoria in the UK, Europe and Israel. She has also served as the CEO for the Committee for Melbourne and COO of the Victorian Chamber of Commerce and Industry.
Sally began her career as a Solicitor, after completing Law (Hons) and Commerce degrees at the University of Melbourne.
Sally has held senior roles at both KPMG and ANZ, and she took the small business she co- founded to the ASX. Most recently she was Victorian Executive Director of the Property Council of Australia.
A passionate Magpies supporter, in 2004 Sally made history as the first female board member of Collingwood FC. She is involved in a number of charities, currently sitting on the board of the Olivia Newton-John Cancer Research Institute, the Mary Jane Lewis Scholarship Foundation and the Melbourne University Faculty of Business and Economics.
Sally is also Honorary Patron of the Lord Mayor's Charitable Foundation, Trustee of the Shrine of Remembrance, Member of the Council of Capital City Lord Mayors, Patron of the Royal Victorian Association of Honorary Justices, Patron of the Royal Women's Hospital Foundation and Victorian Honorary Vice President of the Australia-Britain Society (Victoria) Inc.
Alison Conn
Alison Conn is currently Chief Operating Officer of Vamp, an award winning creator platform. Previously she held a variety of strategic and commercial roles at SEEK Ltd, Medibank, Diageo and Visy Industries. She also spent 10 years with The Boston Consulting Group, including 5 years in New York City.
Alison was appointed to the Faculty of Business and Economics Advisory Board with the University of Melbourne in 2022, after serving on the Advisory Council for 7 years. She also served on The Nappy Collective Board from 2016 to 2021.
Alison holds a Bachelor of Commerce (Accounting and Finance) and a Bachelor of Arts (Criminology) from the University of Melbourne. In addition, she holds a Master of Business Administration from The Wharton School at the University of Pennsylvania.
Peter Gahan
Peter Gahan is the Associate Dean (Teaching & Learning), Faculty of Business and Economics and Professor of Management at the University of Melbourne and a Research Fellow at the Centre for Workplace Leadership, where he was Foundation Director from 2012 to 2017. He has previously held academic and visiting positions at UNSW, Monash, University of South California, The European University Institute, Cardiff Business School, New York University and Stockholm Business School.
Professor Gahan has also worked as senior public servant as Director of Workplace Innovation in the Victorian Department of Industry, Innovation and Regional Development. He has undertaken commissioned research for both state and commonwealth governments on areas related to employment relations, regulatory arrangements to support workplace innovation, and the consequences of various regulatory labour market reforms.
Over the last 25 years, Professor Gahan has published widely on conflict and negotiations, employment relations and collective bargaining, high performance workplaces, labour markets and the future of work, and the consequences of labour market regulation.
His current research focuses on two major drivers of change at work: workforce ageing and how technology is transforming the nature of jobs. Peter is currently exploring how older works are perceived by others (co-workers, managers, and customers) in the workplace and how these perceptions influence hiring decisions, promotion, and performance evaluations.
Gloria Goh
Gloria is a retired Partner of Ernst & Young, Malaysia. Gloria is a former Council Member of the Malaysian Institute of Accountants (MIA) and the ASEAN Federation of Accountants. She was a Past President of the Information Systems Audit & Control Association (ISACA) – Malaysia Chapter.
Gloria has been an active participant in University of Melbourne alumni activities in Malaysia. She is the current President of the University of Melbourne Alumni Association, Malaysia.
She is a member of the Malaysian Institute of Certified Public Accountants (MICPA), a fellow of CPA Australia and a member of the Malaysian Institute of Accountants, and is on the Board of the Malaysia Deposit Insurance Corporation.
David Harris
David Harris is a Professor of Econometrics and Head of the Department of Economics at the University of Melbourne. He teaches econometrics and quantitative methods at all undergraduate and postgraduate levels. He is a coauthor of the Cambridge University Press textbook on Econometric Modelling with Time Series.
David's research in econometric theory and time series analysis has appeared in leading scholarly journals including the Journal of Econometrics, the Journal of the Royal Statistical Society, the Journal of Business and Economic Statistics and Econometric Theory. He is also involved with inter-disciplinary research projects into hearing loss and treatment and its cognitive effects.
Professor Paul Jensen
Paul Jensen was appointed as Deputy Dean of the Faculty of Business and Economics on 1 October 2016. Professor Jensen is responsible for the Bachelor of Commerce and Bachelor of Commerce (Honours). He leads curriculum, program development, student support, knowledge transfer and collaboration with other faculties. He is responsible for Faculty academic staff matters.
Paul's current research interests are innovation, science policy, and technology markets. Much of his research has a strong public policy focus, and has been published in leading international journals such as RAND Journal of Economics, Review of Economics and Statistics, National Tax Journal, Oxford Economic Papers, Journal of Law & Economics, Strategic Management Journal, Cambridge Journal of Economics, Economics Letters, Health Economics, and Industrial and Corporate Change. In addition, he has undertaken commissioned research for IBM, the OECD, the European Commission, Asialink and the Victorian Department of Premier and Cabinet.
For more information, please see www.paulhjensen.com
Rupert Myer AO
Rupert Myer is the Chairman of AMCIL Ltd, a Director of Myer Family Investments Pty Ltd and Mutual Trust Pty Ltd. He is the President of The Myer Foundation, Chair of the Yulgilbar Group of Companies and Chair of the arts and culture think tank A New Approach (ANA). In addition, he serves as Chair of Nuco Pty Ltd and as a member of the Felton Bequests Committee.
Dr James Riady
James Riady is CEO of the Lippo Group of Companies, which is involved in banking, securities, hotels, property and property development, health care, multimedia, business publications and communications. Dr Riady is the founder and Chairman of the Pelita Harapan Educational Foundation, which operates two universities and 20 K–12 schools. Dr Riady is the Deputy Chairman of the Indonesian General Chamber of Commerce and Industry (Kadin Indonesia), Foundation Member of the World Economic Forum, Switzerland and also a Member of the International Business Council.
He was Ambassador at Large and Special Envoy of the President from 1988–2000 and a member of the Peoples' Consultative Assembly (MPR) from 1988–2000, both in the Republic of Indonesia. Dr Riady was awarded the Australian Alumni Award for Entrepreneurship in 2008 by the Australian Embassy in Jakarta. He completed his Bachelor of Commerce at the University of Melbourne, and has received a Doctor Honoris Causa from both Ouachita Baptist University and La Trobe University.
Naomi Simson
After completing her undergraduate degree, Naomi worked for a number of corporations in different marketing roles, including IBM, Apple, KPMG and Ansett Airlines. She started her first business, a marketing consulting firm, in 1996. In 2001 Naomi founded RedBalloon which was a pioneer in the online e-commerce space. Naomi co-founded The Big Red Group in 2017. She is known as an entrepreneur and business leader, and media commentator for business owners. Naomi is a regular panellist on ABC The Drum. Naomi is also a best-selling author, podcaster and speaker and is passionate about helping small businesses succeed.
Naomi sits on a number of boards including Global Marketplace, Australian Payments Plus as an independent director & chair of the End-User Forum & Chair of Reward and Talent committee. Naomi became a Governor of the Cerebral Palsy Alliance in 2013 and also serves on a number of industry advisory boards.
For more information, please see naomisimson.com
Kate Stewart
Chair of the Business and Economics Alumni Council
EBC founder, Kate Stewart is a seasoned entrepreneur and purpose-driven business strategist with a passion for supporting fast moving companies and enterprising founders, particularly in the hospitality and tourism sectors.
With a number of her own successful businesses under her belt—including Bright Young Things and En Pointe Events, she's worked with a league of loyal clients including The Australian Ballet, Mirvac and The Melbourne Food & Wine Festival.
Kate's name is a byword in the events and hospitality game, and for almost two decades she's been bringing her inspirational style, hospitality nous and pragmatic approach to customer experience and business growth.
Currently working with start-up, AmazingCo as head of experience design, she's a B.Com, graduate of the AICD and director at FareShare, Australia's largest food rescue charity kitchen. Kate is sought out for her practical savvy, futurist thinking and real-world operational experience, as well as her commitment to business as a force for good.
Ben Walsh
Ben Walsh joined AIA Australia as Chief Life Insurance Officer in June 2020.This role was broadened in November 2020 to include responsibility for AIA's Investment business and in December 2020 to include responsibility for AIA's Health business.
Prior to joining AIA, Ben worked for Mercer and its sister company Marsh for more than 25 years. He was the Managing Director and CEO of Mercer in Pacific, where he was responsible for delivering the firm's business segments of Health, Wealth and Career, including the Trustee of the AU$25 billion in funds under management Mercer Master Trust.
Ben was appointed to the Faculty of Business & Economics Advisory Board with The University of Melbourne in 2015, the Board of World Bicycle Relief (Australia) in 2019, and the Finance Audit & Risk Committee of AusCycling in 2020. He also served on the Board of the Financial Services Council from 2018-2020.