Social Entrepreneurship Sharks' Tank Competition
Overview
This competition is part of the subject MGMT90165 Social Entrepreneurship which aims to equip students with the ability to work in this exciting new sector, combining theory and practice and frequent guest lecturers. A large part of the assessment will have students develop a business plan for a social business and then present it to a 'Sharks' Tank' panel, where they may win start-up funds to make their social business a reality.
The Preliminary round of the competition is an assessable component of the subject - teams will have 15 minutes to pitch their idea, followed by 15 minutes of questions from the judges, and feedback. The top 4 teams will then be invited to present at the Final round.
What is Social Entrepreneurship?
Social businesses use the energy, innovation and inspiration of business to achieve their main goal of helping solve social or environmental problems. Examples include microfinance, the Big Issue, and Kere Kere café on campus.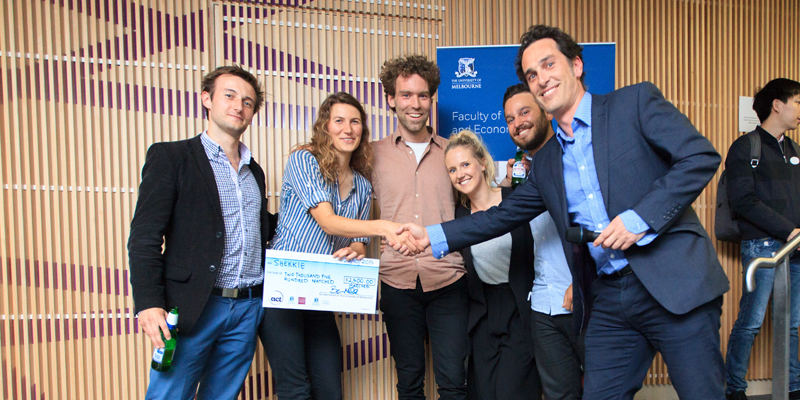 Sharks' Tank Competition - Preliminary Round
The preliminary round will be held on 21 October. This is an assessable component of the subject. Winners will then progress to the final round where they will have a chance to secure up to $5k in seed funding.
Sharks' Tank Competition - Final Round
Four finalists from the preliminary round will be selected to compete in the Finals. All students, staff and members of the general public are warmly invited to attend this event to watch our finalists in action:
Date: Friday, 21 October
Time: 6.00pm to 9.30pm
RSVPs essential: sharks-tank.eventbrite.com.au
This is a free and fully catered event.
Who is this for?
Graduate students
Contact
If you have any further questions about this program please contact us.
Dr Ben Neville
banevi@unimelb.edu.au